Real Stories From the Grave Volume 1: The Body is a short horror game where you transport a body in the middle of the night. You walk to your car with the body in hand, unaware of what happened or why you're carrying it. Stuffing it in the trunk, you drive off to a gas station.
A lone attendant sits in a chair. He has no human features other than being a basic model with limbs and a head. Possibly a form of symbolism that you can't recognize what's human anymore. Driving off to the woods, we then take a short walk to our boat and row to a lighthouse in the distance.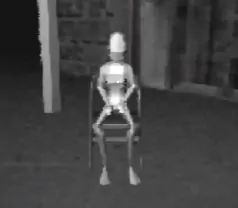 Real Stories From the Grave Volume 1 has an excellent atmosphere and story. The silence when you arrive outside the lighthouse with the body is a strange and realistic feeling. That effect grows once you go inside. It feels so alone and creepy. The boat ride on the way there is ominous too, and the stars in the sky somehow make it feel peaceful. After you go down the stairs, the absolutely horrifying twist is revealed.
Among the silence, are two inhuman creatures eating a pile of what you can guess is human remains off the floor. The story is revealed in notes as you continue on. A doctor was able to bring your family back to life, but at a cost. There's one last thing to do, the identity of the body is revealed, and you decide it's best to end it all.
If you like games with a VHS effect, and an especially dark atmosphere, you should definitely try this out. There's only a few other games that have made such a unique, and horrifying silent world. Since the release of Volume 1, Real Stories From the Grave Volume 2 has been released! So you should check that out too if you liked this.
Real Stories From the Grave Volume 1 gameplay video