Your creative well has dried up, and you've run out of ideas to write a new Symphony. You resort to taking a more drastic approach. In Symphony of Seven Souls, you wander the streets playing your violin in search of willing souls to help form an orchestra.
You can explore the world and use your violin to help locate the dead. It feels like a creepy Halloween world. There's graveyards, dark forests, a prison, and more. Even your own room is a crypt with a coffin in it.
Playing your songs and searching around, you can recruit the dead as they reveal themselves. After gathering seven of them, you can finally play the Symphony of Seven Souls!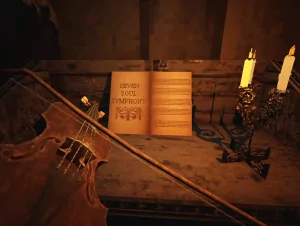 The symphony didn't quite turn out to be what you thought it was, and you pay a heavy cost. Symphony of Seven Souls has a unique and immersive atmosphere which you help create with your own music!
I really enjoyed the dark, gothic, and overall spooky look of the game. It really made exploring the town fascinating. The huge church at the end was beautiful, and the actual orchestra of souls playing the symphony was an excellent display of horror.
Taking around 10-15 minutes to play, I highly recommend it. This game was created for the HPS1 Summer of Shivers Game Jam by Katanalevy. He's the creator of another well known game Daemonologie, so you should check that out too if you liked the SoSS!
Symphony of Seven Souls gameplay video