Mooshie's Kitchen 2 is a bizarre short parody horror game. The kitchen descends further into chaos and violence as cannibals hunt you down while you look for an escape.
The point of the game seems to be purposely sloppy in some places, and to ridicule some common indie horror game problems. One of the signs even pokes at Meatly's Storage World. Despite that, it's a pretty solid and hilarious short horror game.
Sloppy but Quality
A nice added in detail is the game can have small continuations from the first. There's some small changes depending on how you answer the beginning questions. For instance, if Todd was killed in the first game his body will be stashed in the closet. Along with some taunting messages from Mooshie.
Fighting the cannibals can be a bit frustrating when 3 come out at the same time. Usually, it's a near death guarantee and you gotta start over. Make sure to guard, run and kill in between after recovering some health. Not a tough strategy to learn at least.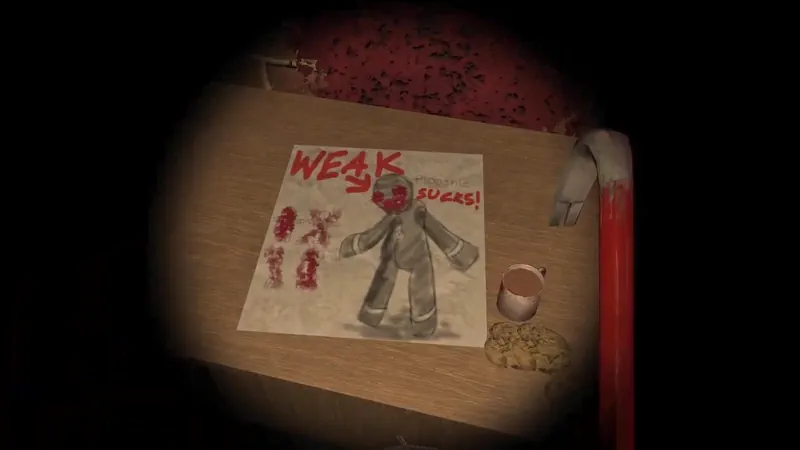 The ending dance fight with Mooshie vs Plooshie was actually pretty epic. The robot dance fight and the music was perfectly done. It has a surprisingly amazing beat for just a short fight. To get the good ending you have to help Plooshie win by smacking Mooshie with a crowbar during the fight. If you let the fight go on, Plooshie usually loses, resulting in the bad ending. You die and Mooshie becomes president.
Mooshie's Kitchen 2 was even better than the first, so I'd definitely like to see more in a third game! The ending stories and credits were funny to watch, especially Mooshie proudly standing as president.
Watch the featured gameplay video!