Deadly Night is a survival horror game where you play as Carol, a hitchhiker. Your latest ride drops you off at a roadside motel overnight. It's very late, you're getting tired, so we get a room to sleep in. The manager is an absolute sleazebag, but the bus won't be here until the morning, so we have to stay here for now.
After getting the keys, we go find our room on the second floor. It's not the nicest place, but it'll have to do. Right from the start, I figured the room would be bugged or have some sort of false mirror. The manager was really creepy, and asked us a lot of dirty questions. It turns out there were in fact cameras! Time to go give that creep a piece of our mind.
You can walk around and check out the motel some more. There's not too many extras, but I do like the attention to detail with everything. Looking around, you may notice a few changes as the night goes on. Going back to the lobby we find something much worse in the back room.
A Cliche Disturbing Motel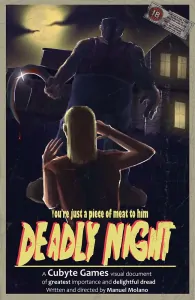 Deadly Night is an excellent demo with a good start. The manager really makes you feel uneasy the entire time. Then there's the extra spin at the end where another villain shows up instead. It has a strong resemblance to puppet combos games, so if you like those you should try it out. It even has a movie poster concept art with an 80's style design!
The game definitely reminds me of movies where the owner secretly films or intrudes on the guests. Sort of like Bad Times at the El Royale where guests are filmed through the mirrors.
At this point it's still a demo and takes about 10-15 minutes to complete. I hope a full game comes out. The game ends with you being trapped in a house, so I imagine it would continue at the point where you try to escape. The arcade machine will also supposedly work in the full version, and there are multiple endings planned as well.