Amanda the Adventurer is a horror game where you watch through the haunted VHS tapes of a weird children's show featuring Amanda and Wooly the Sheep. There's 3 tapes in total, each one bringing you further into the darkness than the last. The first tape is colorful and Amanda acts mostly normal, but you can still tell that something is off. Wooly seems concerned right from the start.
Then as you keep on playing, she starts acting strange. She'll also get more frustrated when you answer something incorrectly, and will eventually force you to pick the answer she wants. Amanda's reaction's are actually kind of funny at some points, with her sarcastic tone that mocks you for acting stupid. Then towards the end of the second tape and the third tape is when you'll get the best out of this VHS horror game. I won't spoil the rest, but one of the most unsettling moments was in the butcher shop where Amanda slowly and manically turns to face poor Wooly.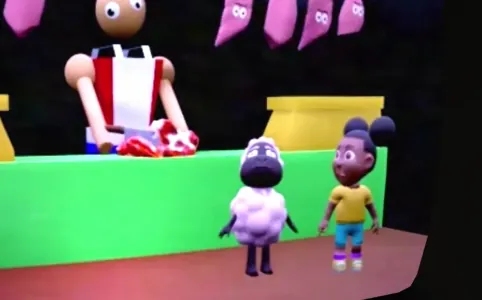 Amanda the Adventurer is one of my new favorite VHS style horror games. The CG model graphics in combination with the tapes format is a great way to present the horror and also makes me feel nostalgic. At around 10 minutes long for one playthrough, I'd highly recommend checking this game out!
How to Find All Secret Tapes in Amanda the Adventurer
At this point, there are three secret tapes in Amanda the Adventurer. Each of them is hidden within each version of the game except for the original release. All you have to do is type in "lamb" when you get to the meat shop to see them. Version 1.1, 1.2, and 1.3 are all different, so you might want to try out each version if you want to see them all.
The first secret tape features a photo of the front of some houses then asks you to type in a code. I typed in "Amanda" since it fits, which brought me to a screenshot of a cow slaughterhouse and then the end of the game. The second tape is an overhead view of some forest and a field, with a red circle over one of the cleared spots. The third tape, which is the longest brings you to a sort of treasure hunting game. One where you can frustrate Amanda with your dumb answers again.
Then at the end is a clip that the creator must have filmed in real life, nice effort! He goes to destroy one of the cursed tapes in a fire, but can't bring himself to do it and succumbs to watching it. The final clip is just of a phone call while he's driving home and keeping the tapes a secret.
Amanda the Adventurer gameplay video