Hungry Lamu is a colorful indie horror game where you play as a hungry llama looking for fruit to eat. He seems innocent enough at first, until you come across some live-like fruits.
Most people who played this game knew something was up right away when you had to knock out the barking "banana". Yes, sadly this is a game where the dog dies. I was also pretty upset. Then there's the campers with fruit heads, who Lamu imagines that they want to be eaten. The narrator says he's sure they don't mind though, so go for it.
The change of 2D and colorful to the 3D Haunted PS1 perspective of the camper was especially unsettling. It changes from happy and colorful, to pretty grim. The darkness and reality of the world change was so haunting and well done. It was creepy, but also sort of comical to hear the shuffling of Lamu in the background.
In the endings, Lamu's face is dark and creepily staring in the background. Barely visible, but will seriously give you the chills when you notice it. He's all over the map in the game too, staring at you creepily from the distance. It's pretty tough to find your way at first. You have no marker on the map, so you just have to go by what's around you. There's a bit of wandering around, but the world is small enough to get by.
Hungry Lamu All Endings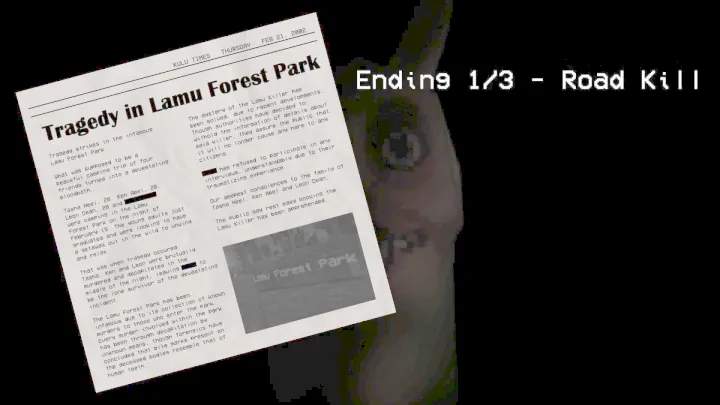 With the addition of the new secret ending, Hungry Lamu now has a total of 3 endings. To get the new ending, all you have to do is make your way to Lamu's cave lair. It's pretty easy to find, you just walk straight through the campsite and continue onto the forbidden part of the map. You go in and read the Lamu book in the corner. Then you get ambushed on your way out to get the Old Stories ending.
The first original ending (1/3) is if you get to escape, but not really. After finding your 3 friends, run to your car and keep away from Lamu if he gets close. Now he can catch you if you wait too long around him. Enter the car and drive away to get the Road Kill ending. Sadly no matter what Lamu still wins in the end. The car is just beyond your friend that got burned in the bush.
While playing as Lamu in 2D, you can bust up the car making it harder on yourself later. Then you can't escape in the car, and Lamu will teleport behind you. He can also catch you after finding your 3rd friend anyway, getting you the Full Course Meal ending where all of the campers are eaten by the evil llama.