A wildlife photographer sets out to the Mount Pallas park, in hopes of catching a glimpse of a rumored monster. Birdwatcher is a beautiful PS1 style horror game where you take pictures and gather up the evidence of this creature.
In the small park area, you find a lot of creepy trails he left behind. Footprints, a campsite that looks like it was attacked, and… an egg of some sort. Doesn't look human! Along the way, he also makes some notes in his journal you should check out.
Birdwatcher Haunted PS1 Aesthetic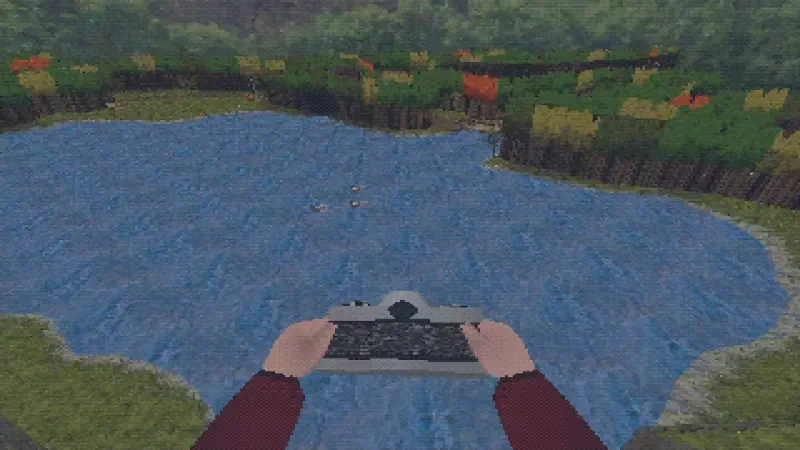 Birdwatcher has a fun and interesting theme. It's like the hunt for big foot, or the many other cliches where a photographer goes out into nature to find a creature from urban legends. Also, there is no actual bird watching at all. I enjoyed many of the small details like the ducks in the lake. Also how it gets darker as the game goes on. The views were also amazing, some of my favorite in all of the Haunted PS1 games I've played.
Looking down from the top was the best view, where you can see the entire park and the lake below. The design here was beautifully done. You can also change the graphics in the settings to give it a bit of a clearer view. Either way, it looks great though. The ending jumpscare was also really well done. Not too sudden or loud. It was actually expected, but was still tense and creepy. Just from the way that monster turns around and stares at you!
Birdwatcher is best played with a controller. Sometimes you might need to hit the buttons to bring up the camera and to take a picture multiple times. Seems to be a common issue, but it wasn't a huge problem for me. Created for the 32bit Game Jam 2022.